The ancient Castel Pietraio is now the home of the Fattoria di Castel Pietraio. This winery is part of the "District of the Montagnola Senese", located at the foot of Monte Maggio, and in addition to Sangiovese, wines are produced from Merlot and Chardonnay grapes.
History of Castel Pietraio
At the end of the 10 C, nearby Strove and Staggia were under the rule of the Countess Ava Lambardi, a descendent of a noble Longobard family, whose sarcophagus is still on view in the right aisle of the abbey at Abbadia a Isola. The countess Ava and her husband Ildebrando had two sons, Tegrimo, who married Sindrada, and Berizio, who founded Poggio Berizio, now Poggibonsi. In the 12 C, the Castle belonged to the Soarzi and in the 13 C to Ginibaldo Saracini, Sapia Salvani's husband. She was the daughter of a noble and powerful Siennese family and she is referred to in Dante's Purgatory. In the 15 C, Castel Pietraio was under the rule of the Capacci, another noble Siennese family coming from Monteagutolo del Bosco, whose coat of arms included a boar's head. This was carved as ornament on the stones of the floors and of the portals of the castle, and is still visible in part.

The most ancient part of Castel Pietraio is the 10 C tower with its Guelph battlement. Construction dating from 1300 to 1500 created the quadrangular ground plan with its internal cloister, where a well for the collection of the rainwater provided for the water supply of that time. The construction of the church dedicated to the Saints Peter and Paul is of the same period. The buildings of the little "borgo" (village) completing Castel Pietraio date from 1700.

Baron Massimo Neri Del Nero, father of the current owner of Castel Pietraio, carried out the restoration of Castel Pietraio and its village, restoring it to its ancient and simple austerity. The olive trees and the vines have been and are still being replaced with the aim of improving quality and the introduction of innovative wine-making.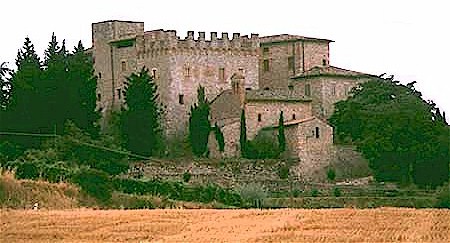 Back to Monteriggioni